Events

Here at the Gloucestershire VCS Alliance, we are always keen to find out about events that are happening around the county.
If you would like us to advertise your event, please email This email address is being protected from spambots. You need JavaScript enabled to view it.
January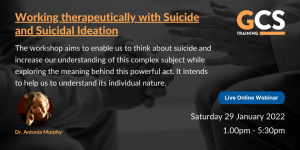 Hosted by Gloucestershire Counselling Services
The workshop aims to enable us to think about suicide and increase our understanding of this complex subject while exploring the meaning behind this powerful act. It intends to help us to understand its individual nature. It also examines the destructive aspects and the unconscious intentions and fantasy behind the act, both as an act for and against the self.
Saturday 22nd January 2022

1-5.30pm

Live online webinar
---
February

The annual Great Western Air Ambulance supporter's ball at Tortworth Court is back! Join us for fun, fizz, and entertainment. Tickets include a complimentary drinks reception, 3 course meal with coffee, and a live band with entertainment.
Saturday 12th February – 19:00 arrival, seated for 19:30. Finish 00:30.
Tortworth Court De Vere Hotel, Wotton-under-Edge, GL12 8HH.
Individual tickets – £55, or you can book tables of 8, 10, or 12 (£440, £550, £660).
12th February

7:00pm

Tortworth Court De Vere Hotel, Wotton-under-Edge, GL12 8HH.
---
March

YMCA Cheltenham is pleased to announce the return of it's Sleep Easy event!
The aim is simple: get sponsored to sleep rough for one night, raising funds to provide young and vulnerable people with a safe place to live and support to build a future.
Cheltenham's 9th Sleep Easy event will take place on Friday 11th March 2022 at the YMCA Cheltenham Sports Centre.
We are inviting people from across the local community to join us - families, friends, work colleagues, individuals - to sleep rough for one night, raise much needed funds for our work with the homeless and those at risk of homelessness.
Register your interest today and will keep you up to date as more details are confirmed!
Friday 11th March 2022

7:00pm

YMCA Cheltenham Sports Centre, College Drive, Cheltenham, GL51 8LE
---