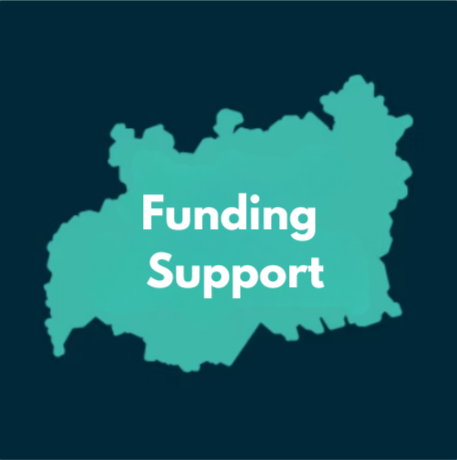 This page provides you with information about funding support available for VCSE sector groups & organisations in Gloucestershire.
Bidding in partnership
Have you considered working in partnership with other VCSE sector groups & organisations to submit a joint bid for a grant, tender or funding opportunity? If you would like to connect with potential partners, please This email address is being protected from spambots. You need JavaScript enabled to view it. as we may be able to connect you with other interested groups & organisations to explore this further.
Gloucestershire Funding Advisors Network
The Gloucestershire Funding Advisers' Network is a group of funding advisers who give capacity building and support to VCSE sector groups & organisations in Gloucestershire:
Bromford Housing supports charities and community projects across Gloucestershire, especially in areas where their tenants live. Please email

This email address is being protected from spambots. You need JavaScript enabled to view it.

for more information.
GRCC offer funding advice and support to voluntary and community sector organisations across Gloucestershire. Please email

This email address is being protected from spambots. You need JavaScript enabled to view it.

for more information.
Tewkesbury Borough Council provide a range of support for VCSE groups & organisations in the Borough. Please email

This email address is being protected from spambots. You need JavaScript enabled to view it.

for more information.
Inform Gloucestershire
Inform Gloucestershire contains a wealth of information and data about Gloucestershire's communities at county, district, parish and ward level. Produced by the Strategic Needs Analysis Team at Gloucestershire County Council the website is divided into 12 themes including population, economy, children & young people and community safety.
Local Funders
You can also find out about the range of ongoing funding provided by funders within Gloucestershire on our Local Funders page.
Monthly Funding Bulletin
You can sign up to receive information about funding opportunities, upcoming deadlines, useful resources and more by joining our Funding Bulletin mailing list. More information about our Funding Bulletin and how to sign up is available on our Newsletter page.
Support for the VCSE sector in Gloucestershire
We provide a range of support for VCSE sector groups & organisations of all shapes and sizes in Gloucestershire, including fully funded training & events, a range of thematic mailings, regular news updates, free membership and help recruiting volunteers.
We are the independent voice of the VCSE sector in Gloucestershire and are passionate about promoting equal partnerships at every level. You can find out more about how we work in partnership and represent the sector on our About Us page.
Get in touch
We reguarly update this page with information and will add additional funding as/when it becomes available. Please This email address is being protected from spambots. You need JavaScript enabled to view it. if you know about any funding that isn't included on this page. Please also let us know if you find any broken links and we will correct them asap. Thank you!