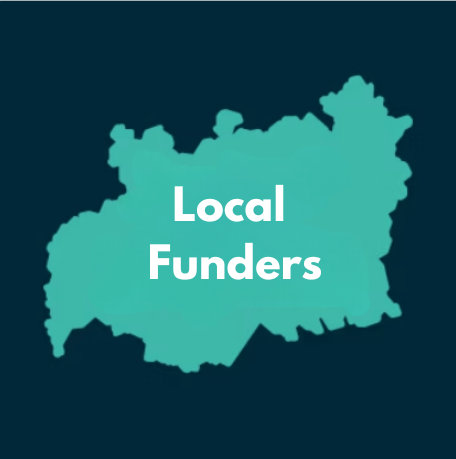 This page provides you with information about local funders that provide ongoing funding for a range of community projects across Gloucestershire.
Local funders
NEW! Barnwood Trust - funding for people, organisations and groups to help Gloucestershire be a better place for disabled people and people with mental health conditions. A range of funding is available for individuals, groups & organisations. Application deadline: varies depending on funding pot.
Chipping Campden Community Trust - grants for residents, voluntary groups, charities and schools residing in the villages (a list is on their website) that benefit the local community. Applications will be considered where statutory government funding is not available and/or where other community funding has been applied for if available. Applications can be made at any time.
Cotswold Community Network - Crowdfund Cotswold enables groups & organisations in the district to pitch for up to £10,000 to fund their project. Ongoing match funding.
NEW! Cotswold Primrose Charitable Trust - funding is available for registered charities, churches, parish councils, local authorities and CASC registered sports clubs. The trust provides funds predominantly to charities whose fields of operation focus on allowing individuals to access education, training, work and sports and physical activities within the UK. Applications should be accompanied by the charity's latest report and financial statements and should be addressed to: The Cotswold Primrose Charitable Trust, c/o New Quadrant Partners Ltd, 22 Chancery Lane, London, WC2A 1LS. Applications can be submitted at any time.
Gloucestershire Disability Fund - grants to help people with disabilities in Gloucestershire through life's challenges. Open to Gloucestershire residents of any age with a physical, sensory or learning disability who are in receipt of a disability benefit. Organisation grants are for organisations/groups whose aim is to improve the lives of Gloucestershire people with physical, sensory or learning disabilities. Up to £1,000 for individuals. Up to £2,500 for eligible groups and organisations. Your Future grants up to £4,000. Ongoing funding.
Gloucestershire Funders - an informal group of funders committed to working together in a joined-up way to benefit Gloucestershire. They aim to provide one point of access to sources of financial support for Gloucestershire charities and groups. They want to reduce the number of applications people have to make so that they can focus on the enormous range of support, services and projects that they provide to improve life for people across Gloucestershire. Ongoing funding.
Gloucestershire Community Foundation - aims to help local groups, organisations and charities to address disadvantage and deprivation in Gloucestershire. The Foundation runs its own grants programme and manages grant programmes on behalf of donors. A range of funding is available, from £250 to £10,000, depending on the programme. Criteria and deadlines for individual pots is available on their website, as not all funding is ongoing.
NEW! Gloucestershire Community Nurses Fund - established with the help of community nurses in 1974, the charity has three aims:
To provide financial support to people who are experiencing difficulties as a consequence of illness or disability. For example, a grant may be made for the provision of equipment, minor adaptations or repairs or to assist with the cost of therapy or care.

In cases of need, to provide financial assistance to community nurses, including retired nurses and those currently working in Gloucestershire.

To support nursing services in the community by the provision of, for example, equipment/aids, educational/training grants and part funding of specialist nursing posts.
Referrals are invited from all those involved in the care of vulnerable people in the community including health and social care professionals, private and voluntary agencies. The committee meets four times a year (in January, April, July and October) to consider grant applications. More urgent referrals will be considered as necessary. Please contact Gloucestershire Community Nurses Fund on 07984 971 837 or email This email address is being protected from spambots. You need JavaScript enabled to view it. for more information.
Gloucestershire Build Back Better Councillor Scheme - designed to support the community to recover from the impacts of the COVID-19 pandemic (which means the county council will be as flexible as possible in the projects it will fund). Recognising the diverse nature and needs of Gloucestershire's communities and neighbourhoods, criteria for bids is likely to consist of key themes including 'community health and wellbeing', 'digital inclusion', 'nature and/or the environment', 'healthy lifestyles' and 'safer neighbourhoods'. Up to £40,000 is available under each county councillor. Ongoing funding - applications will be accepted until 31 January 2025.
Juliet's Purse Homeless Relief Fund - administered by Gloucestershire Nightstop, the fund helps young people experiencing and at risk of homelessness through small, quick grants that help people access accommodation or prevent eviction. People aged between 16 and 25, living or going to live anywhere within the county of Gloucestershire can apply. Frontline workers can also apply for a grant on behalf of an eligible young person. Funding up to £500 is available. Applications can be made at any time.
Let's Be Clear Fund - campaign for clear face masks and clearer communication across Gloucestershire. Let's Be Clear is led by the Barnwood Trust and supported by organisations from across the county. Ongoing funding.
Local Lotteries - for the benefit of local communities. Lotteries currently run in Cheltenham, Forest of Dean, Gloucester City and Stroud. Please click on the individual locations for more information and to sign up.
Mayfield Trust - grants to individuals with learning disabilities, or families with a member who has learning disabilities, in Gloucestershire, to purchase items which would improve the life of the beneficiary. The Trustees will only award one-off grants to help a specific project or need. Applications can be made at any time.
NEW! The Prestbury United Charities - individuals, groups and societies can apply for support for those in need who live in the areas of Cheltenham with Post Codes beginning GL50, GL51, GL52 and GL53. The Charities have a preference to those who live in the ecclesiastical Parish of Prestbury and the adjoining parishes of Southam and Swindon Village. Applications can be made at any time.

Your Gloucester Small Grants - £10,000 funding has been set aside by Gloucester City Council to support residents who are not currently involved in local community activities to develop projects using the asset based community development approach. Applications are encouraged from organisations that have an idea that will kick start or enhance community based activities to the benefit of groups, young people or adults within Gloucester City. Applications can be made at any time.
Tewkesbury Borough Community Health & Wellbeing Grant - grants for not-for-profit organisations working with communities in Tewkesbury Borough. Individual beneficiaries are not eligible to apply to this scheme. £1,000 grants available. Ongoing funding.
NEW! The Free Hospital Trust Fund - up to £3,500 funding is available for charities, schools and not-for-profit organisations that support families in Gloucestershire where the children and/or their parents have health problems (physical, emotional, or social). Applications can be made at any time.
National Funders
You can also find out about the range of ongoing funding provided by funders across the county on our National Funders page
Monthly Funding Bulletin
You can sign up to receive information about funding opportunities, upcoming deadlines, useful resources and more by joining our Funding Bulletin mailing list. More information about our Funding Bulletin and how to sign up is available on our Newsletter page.
Support for the VCSE sector in Gloucestershire
We provide a range of support for VCSE sector groups & organisations of all shapes and sizes in Gloucestershire, including fully funded training & events, a range of thematic mailings, regular news updates, free membership and help recruiting volunteers.
We are the independent voice of the VCSE sector in Gloucestershire and are passionate about promoting equal partnerships at every level. You can find out more about how we work in partnership and represent the sector on our About Us page.
Get in touch
We reguarly update this page with information and will add additional funding as/when it becomes available. Please This email address is being protected from spambots. You need JavaScript enabled to view it. if you know about any funding that isn't included on this page. Please also let us know if you find any broken links and we will correct them asap. Thank you!